CM-SAM9G45 | Atmel AT91SAM9G45 CPU Board
| | |
| --- | --- |
| Processor: | ARM9 @ 400Mhz on Atmel AT91SAM9G45 |
| RAM Size: | 128MB DDR2 |
| Nand Flash: | 256MB Nand Flash, 4MB DataFlash, 2Kbit EEPROM |
| Interface: | One Ethernet, USB Host, USB Device, TFT LCD, Touchscreen, SDIO, PWM, JTAG, UART, System BUS, SPI, I2C, GPIO, A/D, Watchdog, RTC |
| System: | Linux system with QT lib |
| Board size: | 57mm x 39mm |
CoreWind CM-SAM9G45 processor card is a compact ARM embedded controller based on 400MHz Atmel AT91SAM9G45 ARM 926EJ-S microcontroller which is designed to provide a high performance processor solution with a high flexibility for general and multimedia oriented applications.
The CM-SAM9G45 processor card has external 128MB DDR2 SDRAM, 256MB Nand Flash, 4MB Dataflash and 2Kbit EEPROM on board and many peripherals like UART, Ethernet, USB, LCD, Touch screen, SDIO, JTAG and all IOs are brought out by two B-To-B 100Pins connector female headers which is convenient and flexible for customer's secondary development work.
CoreWind also designed one expansion boards to bring out connectors for implementing and extending the functions of CM-SAM9G45. The boards are called
SBC-SAM9G45
single board computers. CoreWind offers Linux 2.6.30 for the boards. They are high-performance single board computer for industrial needs.
Dimensions: 57*39mm, 8 layer
Working Temperature: -40 to +85 Celsius
Atmel AT91SAM9G45 ARM926EJ-S Core Microprocessor

32 KBytes Data Cache, 32 KBytes Instruction Cache,

MMU: 64-kbyte internal SRAM and 64-kbyte internal ROM

Work at up to 400MHz
External Memory

128MByte DDR2 RAM

256MByte NAND Flash

4M DataFlash

2Kbit EEPROM
Two system working status LED
Two 100Pin B-To-B connector extend more interface from CPU

System bus, UART, Ethernet, USB Host/Device

SPI, TWI, SDIO, PWM, AC97, LCD, Touch Screen, JTAG and all IOs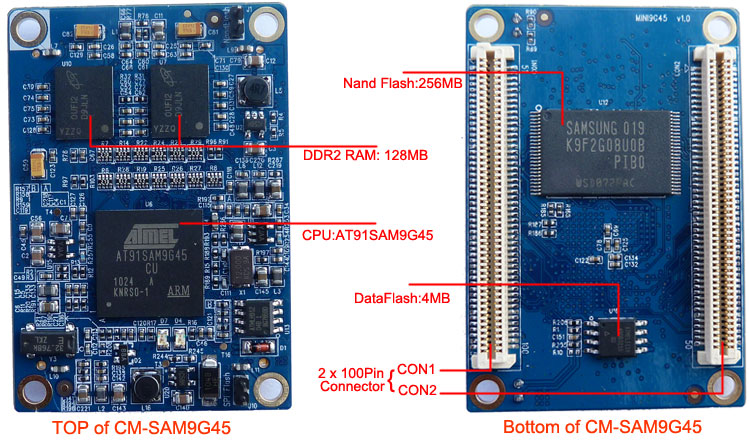 Adapter mother board: SBC-SAM9G45 Single board computer

Supports for Linux 2.6.30 operating systems

Industrial control

Field Communication