SOC-SAM9X25 | Atmel AT91SAM9X25 Industrial PC board
| | |
| --- | --- |
| Processor: | ARM9 @ 400Mhz on Atmel AT91SAM9X25 |
| RAM Size: | 128MB DDR2 |
| Nand Flash: | 256MB Nand Flash |
| Interface: | Two Ethernet, USB Device, CAN BUS 2.0, SDIO SD card, UART, SPI, I2C, GPIO, A/D, Watchdog, RTC |
| System: | Linux system |
| Board size: | 96mm x 90mm |
Overview
The SOC-SAM9X25 is a System on Module aim at Industrial Automation Area based on Atmel 2012 newest AT91SAM9X25. With high-performance (up to 400MHz ARM ARM926EJ-S 32bit RISC Core,), the SOC-SAM9X25 pins out all of the GPIO resources (including PA0-PA14, PA21-PA30, PB11-PB18, PC0-PC17, PD14-PD21 etc.) and industrial peripheral resources (CAN、ADC、UART, USB+PHY、Soft Modem, Zigbee) by flexible Embedded Industrial Control Bus connector—PC104.Besides, The SOC-SAM9X25 integrate AT91SAM9x25, FLASH、DDR and Ethernet, which solves the most complex problem of connection between DDR and CPU so that customers can use AT91SAM9x25 easily、save the product development cycle dramatically and reduce the complexity and cost of the product effectively.
CoreWind offers Linux 2.6.39 for the boards. They are high-performance single board computer for industrial needs.
Hardware
CPU
: Atmel AT91SAM9X25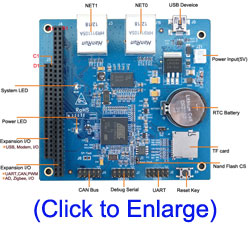 Up to 400MHz ARM ARM926EJ-S Core Microprocessor
RAM: 128MByte DDR2
Flash: 256MB Nand Flash
LED: 1x power supply indicator and 1 x programmable indicator
EEPROM:1x 256KB I2C EEPROM
Power connector: 5V DC
NET: Two Ethenet interface, RJ45 connector
USB: 1x USB 2.0 Deveice interface
Debug: 1 RS232 Debug Serial port(2x5 Pin header)
UART: 1 TTL Serial Port(Support expand RS485 or RS232 voltage)
CAN: One CAN bus interface(TTL voltage)
Dimension: 96*90mm, 6 layer.
PC104 connector

Five Serial Port(TTL voltage)

Two CAN bus(TTL voltage)

Two USB Host

One Soft Modem

Four-channel 16-bit PWM and 12-channel 10-bit ADC

One Two-wire Interface(same as IIC) and Two SPI interface

One SSC bus(Synchronous Serial Controller)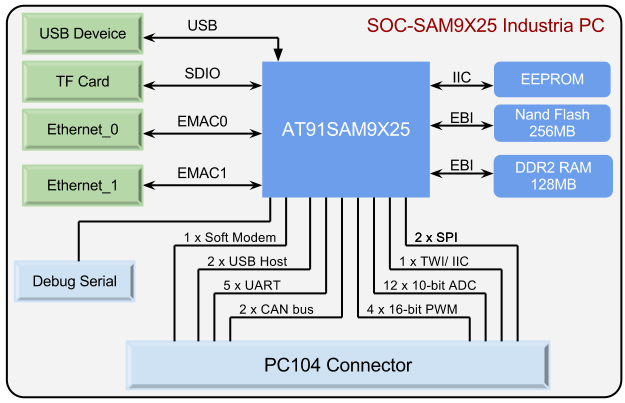 SoftWare
Linux System:

Update method: Update the system by Samba or Tftp

Linux Version: Linux 2.6.39 System

Driver Support

Serial port, CAN bus driver, Ethernet Driver, Telnet, TCP/IP

USB Host, TF card , Soft Modem

FileSystem Support

UBI Filesystem