IPC-SAMA5D34 | ATmel SAMA5D34 Industrial board
Working Temperature: -40 to +85 Celsius
Atmel SAMA5D34 Cortex-A5 CPU, 536 MHz
256MB DDR2 SDRAM, 256 MB NAND Flash
Integrated 1GMBit Ethernet on board
TFT LCD with touchscreen, Audio
CAN, RS485, RS232 support
IPC-SAMA5D34 is a high-performance ATMEL SAMA5D34 industrial PC board, from Corewind design, production and distribution sales. It uses ATMEL SAMA5D34 ARM Cortex-A5 processor , running at up to 536MHZ. IPC-SAMA5D34 Contain one CPU board(CM-SAMA5D34 ) and one base board(IPC-SAMA5D34 Base board).
The CM-SAMA5D34 processor card has external 256MB DDR2 SDRAM, 256MB Nand Flash and 4MB SPI Flash. It Integrated one 10/100/1000 MBit/s Ethernet chips on board, and many peripherals.
The IPC-SAMA5D34 is the base board for the CM-SAMA5D34. It comes with a variety of common standard interfaces, such as USB Host, SD card, DB9 serial port, RS232/RS485 Serial port, CAN Bus interface, RJ-45 1GBit Ethernet port, audio input and output ports, as well as some of the on-board resources testing devices such as buzzer, keypad, GPIO ports, etc.
CoreWind offers Linux 3.6.9 and Android system for the boards. They are high-performance single board computer for industrial needs.
CM-SAMA5D34 CPU Board Feature
CPU processor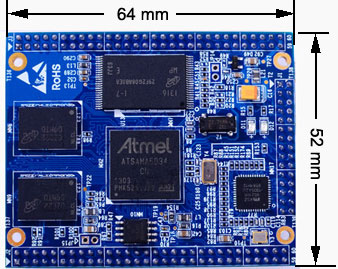 ATMEL SAMA5D34 ARM processor
Cortex-A5, working at 536MHZ.
DDR2 RAM Memory
256MB DDR2 RAM, 32bit data bus
Flash Memory
256MB Nand Flash
4MB SPI Flash
Pin interface
2 x 60 pin 2.0mm space DIP connector
1 x 30 pin 2.0mm space DIP connector
Resource: USB, Ethernet, Serial, SSC Audio, CAN, SDIO,LCD, Touch, SPI, IIC, GPIO
On-board resources
Integrated 1GMBit Ethernet on board
2 x LED
Supply Voltage 3.3V
PCB Size
8 layer, 52 x 64 (mm)
Low power consumption, only 0.5W
IPC-SAMA5D34 Base Board Feature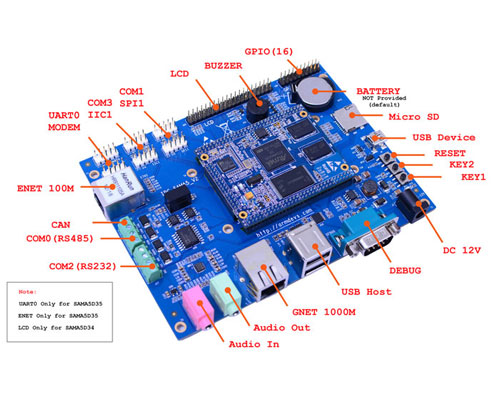 Display

LCD: 40Pin connector, 2.54mm , 16 TFT LCD support

Support 4.3"LCD, 7"LCD, 10.4"LCD

Ethernet

1 Gbit Ethernet support, Rj45 interface

Serial Port

Total five Serial port:

> Debug Serial: RS232 Level, DB9 connector

> USART0: RS485 level, connector

> USART1: TTL Level(5-wire, expand with 2x5Pin header COM0 )

> USART2: RS232 Level(Expand with 3.81 connector)

> USART3: TTL Level(5-wire, expand with 2x5Pin header COM0 )

CAN Bus

1 x CAN Bus 2.0

Standard interface

Two USB Host

One USB Device interface

One Audio In/Out interface

One TF card interface

Board Resource

Key: 3 user key, contain one Reset Key and two User key

One RTC Battle

GPIO

16 GPIO interface

PCB Size

145 x 110mm, 2 layer

Power In

12V

System

Linux 3.6.9
Software support
U-Boot

Support update the system by USB Disk

Support Update the system by Ethernet

Version

Linux 23.6.9

Driver Support

CAN Driver

Support CAN Bus

Serial Port Driver

Support Serial port Send/Receive, Support RS232 and RS485 mode

RS485

Support Modbus

LCD Display

Support 4.3"LCD, 7" LCD, Contain touchscreen

LCD Backlight

LCD Backlight

Audio

Support Audio In/Out

USB Host

Support USB Disk, USB Mouse, USB Keyboard

Gbit Ethernet

Support GBit Ethernet, TCP/IP Support

TF Card

Support TF card, up to 32GB

GPIO Driver

GPIO Out/In driver

Buzzer

Buzzer

Key driver

Key Driver support

System function

RTC,Watchdog

FS

UBI File system

Support UBI File system